What's Quantum all about?
Born of Frustration
-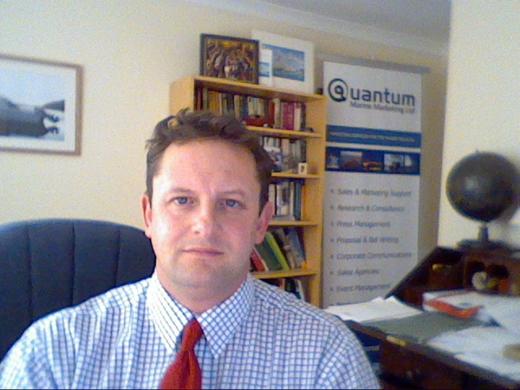 Nick Dalton, Managing Director
I count myself lucky to make my living in an industry as fascinating as the commercial marine sector.
Not only has our industry shaped world history, it is today so critical to the global economy that it affects the fate of nations. It provides a service essential to human life as we know it, and which is so important to the politics and economics of the day that it is fair to say the two are intrinsically linked. The shipping industry is vital to the vast majority of world trade, and I find it fascinating.
For millennia, trade has been the one of the most powerful forces shaping human history and it is safe to say that its importance is unlikely to decline so long as humans are on the face of the earth. And whilst it has come in for some environmental criticism recently, it is still by far the most environmentally friendly means of moving goods around the world and is working hard to improve further.
My career in the marine industry began with a degree in marine biology followed by an MSc but it wasn't long before I was drawn to the commercial side of the business. After some scientific work and some time spent in marine environmental project management I took a sales job with a multinational marine electronics manufacturer and was with them for nearly 10 years. It taught me a lot about the relationships in the marine industry between ship owners, managers, yards, product manufacturers, sales agents and distributors, and it was what taught me that selling is not a dirty word. It's an essential part of what any business does and so long as you are selling a product you believe in to someone that needs it, and doing so with integrity, you can sleep well at night.
I then went to work for a Government business support agency where I was responsible for helping marine companies to build their export business. I got involved with running some government-funded trade initiatives and I met lots of fantastic companies who were brilliant at what they did and passionate about doing it.
What very few were doing properly - generally by their own admission - was promoting themselves. Frustratingly, I couldn't do half as much as I wanted for these companies even though in many cases I could see what needed to happen. It was that which pushed me to start my own business, offering those services under my own banner and usually on a risk-sharing basis.
So what does Quantum aim to do for its clients?
I think "Marketing" is a tainted word. To many people it conjures up images of a sexy logo, a flashy website, expensive brochures, customer surveys, focus groups. In actual fact, marketing is anything and everything that contributes to promoting your goods or services to the consumer, which can include all sorts of things from the obvious to the subtle and the big to the very small. We aim to contribute to all the constituent parts of that process.
Quantum is here to help good companies do better.
We aim to work with ambitious companies with good products and real potential and to help them reach that potential. We're picky who we work with. We seek to work deeply with a few, not superficially for many and we'd rather be on a commission than a day rate (although both usually have a place in the equation). We aim for long-term, trusting relationships where everyone wins.
We want to roll our sleeves up, get stuck in on behalf of our customers and to spot opportunities for them wherever we happen to be. We want to make a real contribution.
We don't focus on grants and other support. Of course, we keep our eyes open for worthwhile help for our clients - and have a good record of securing it - but we believe that the resources it takes to manage these processes can often be better spent elsewhere.
We want to show the brilliant companies in this fascinating industry what their true potential is and we'll do everything we can to help them achieve it. As a young and energetic company, Quantum is hungry for action and looking for ways to bring this energy to bear on initiatives for our customers.
If you're still with me then perhaps some of the above has rung some bells. And if so, I'd love to hear from you.
Many thanks for your time.

Nick Dalton